Aloe Vera Masks For Skin and Hair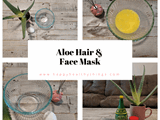 I desperately needed to harvest my aloe plant, so I found a couple of aloe recipes and modified them for the ingredients I had available. This hair and face mask made me feel refreshed and productive as I took a little extra time for myself when trying them out. 
Aloe & Egg Yolk Hair Mask
Ingredients:
1 egg yolk
1 tbsp coconut oil
1 aloe leaf
Instructions:
Melt your coconut oil in a microwave safe bowl. 15-20 seconds should be plenty. 
Whisk your egg yolk into the oil. 
Take your aloe leaf and squeeze the gel out of it into your egg mixture. (If you have a specific way you like to get the aloe, go for it. I just found this to be the least messy method for myself.)
Whisk in the aloe. 
Use hands to generously spread the aloe mixture into your hair. Soak your hair with the mixture until it is all covered. Leave in for 15-20 minutes, and wash out when done. 
Benefits of egg yolks for hair
Egg yolks are rich in vitamins A and E and biotin. They help your hair become more resistant to damage and promote moisture and shine.
Benefits of coconut oil for hair
Coconut oil also promote shine and resistance to damage, helping your hair grow faster and look great along the way.
Benefits of aloe for hair
Aloe vera helps repair dead skin cells on the scalp and is a great conditioner for your hair, leaving it smooth and shiny. 
Ingredients:
1 tsp nutmeg
1 tablespoon coconut oil
1/4 teaspoon lime juice (or lemon juice)
1 aloe leaf
Instructions:
Melt your coconut oil in a microwave safe bowl for 15-20 seconds and whisk in nutmeg and lime juice. 
Squeeze the gel from the aloe leaf into your mixture and whisk in. 
Spread liberally over your face and leave on for 15-20 minutes. 
Wash off with warm water and bask in your refreshed face.
Benefits of nutmeg for skin
The antioxidants in nutmeg can help prevent and reduce acne and inflammation on your skin. 
Benefits of coconut oil for skin
Coconut oil is naturally anti-bacterial and moisturizing and can help keep your skin smooth. 
Benefits of lemon/lime juice on skin
Lemon and lime juice can act as an anti-aging material, lightening dark spots and acne scars on your skin.
Benefits of aloe for skin
Aloe vera has so many wonderful benefits for your skin, including acne relief, reduced inflammation, and moisturizing dry skin.