Best Czech Meals to Try in Prague
A huge draw when visiting most European countries is the food (particularly if you're visiting from the United States). Most cuisines are so different and interesting, and it's fun to be able to take a part in this aspect of the local culture. And who doesn't love food, right?
Prague and the Czech Republic offer local dishes that will warm your soul. Most of these are the perfect comfort food and are wonderful to try no matter what time of the year you visit.
Check out some of our favorites.
1. Hovězí Guláš (Beef Goulash)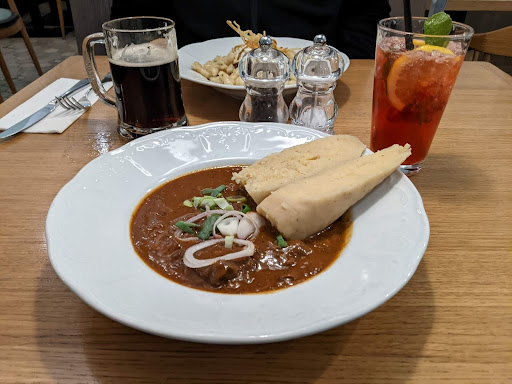 Czech guláš is definitely high on the list of local comfort foods. It's basically a thick stew made with beef, onions, and seasonings, often served with some kind of bread or potato-based dumpling (as pictured above). These dumplings are often called knedlíky.
You can find guláš at many of the restaurants in Prague that offer traditional Czech cuisine.
You may have noticed the drinks in the picture. While Prague is well-known for its local beers and other alcoholic beverages, my husband and I don't drink alcohol. But we do enjoy other local drinks. One soda in particular (pictured in the top left) is Kofola. It probably compares most to Coke or Dr. Pepper, though it really doesn't even come close to either of those in flavor. But it goes well with just about everything and is awesome when you can get it on tap. We also had the house lemonade (domácí limonáda) which is made with sparkling water, lemon, and fruit–so don't expect a sweet and sugary lemonade if you order one. It was refreshing though.
2. Svíčková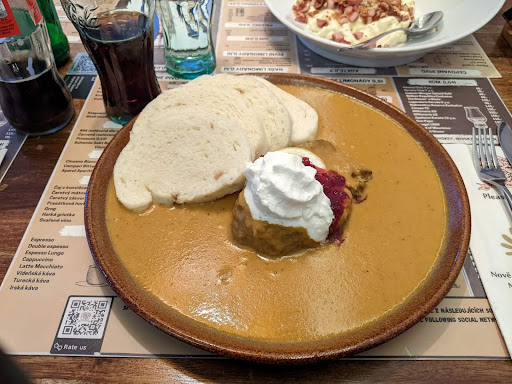 Svíčková (sveech-koh-vah) is another delicious beef-based comfort food that will get your mouth watering. The meat is a tender roast beef or sirloin steak that melts in your mouth, and the sauce is a thick vegetable (often carrots) and cream-based sauce that pairs perfectly with the dumplings and beef. And to top it all off, it often comes with a dollop of whipped cream and some cranberries. That may sound weird, but it really does balance out the whole dish nicely and I wish they gave you more of the whipped cream and cranberries.
3. Pečená Kachna (Roasted Duck)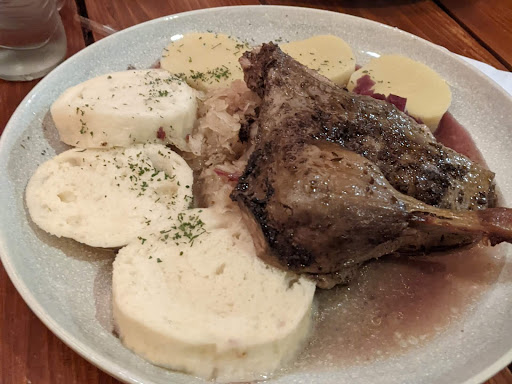 Pečená kachna (roast duck) is a common meal that you can find at Czech restaurants. The duck is seasoned and roasted so the meat easily falls off the bone, and it is often served with bread or potato dumplings and red cabbage.
4. Halušky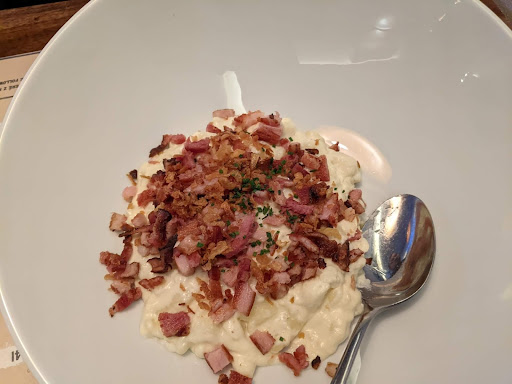 Halušky is a potato-based noodle/dumpling that often comes with cabbage and bacon in the Czech Republic. But we much prefer it with bacon and bryndza, a sheep cheese made primarily in central-eastern Europe.
Halušky is a less common meal here. My husband enjoyed it a lot when he lived in Slovakia for two years (serving a mission for our church). But we haven't been able to find an amazing place for brynzové halušky (pictured above) in Prague. We did find one at U Tří Prasátek which wasn't bad, but it didn't compare with our memory of it from Slovakia.
5. Chlebíčky (Open-faced Sandwiches)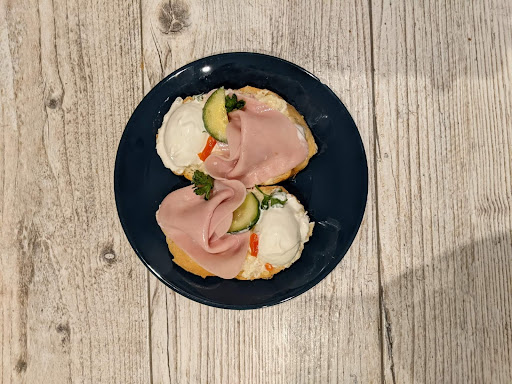 Chlebíčky is a super common meal that you can make at home or get at bistros and cafes. It is an open-faced sandwich with various toppings. Some of the common toppings include hard-boiled eggs or egg salad, deli meat, pickles, and radish. But there are tons of variations of chlebíčky so you can find one that you'll enjoy. You can also pick it up pre-made from most grocery stores.
6. Grilované Klobásy (Grilled Sausage)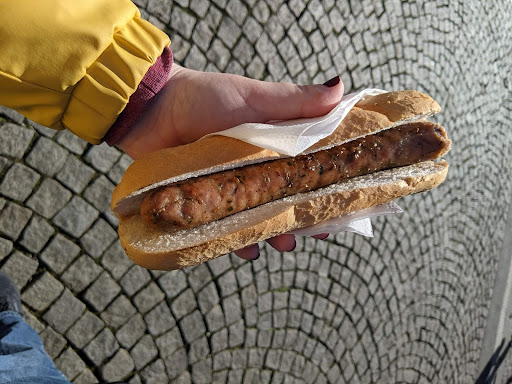 If you are ever heading into the city center, hit up one of the many outdoor markets for a quick bite to eat. You'll find several variations of grilované klobásy throughout the city. One of our favorites was this herb sausage that we had from an outdoor market near the Palladium shopping center in Prague.
Be warned though, even if you're just walking through, you'll likely wind up smelling like the smoke from the grill–it reminded me of campfires though so I didn't mind it too much.
7. Smažený Sýr (Fried Cheese)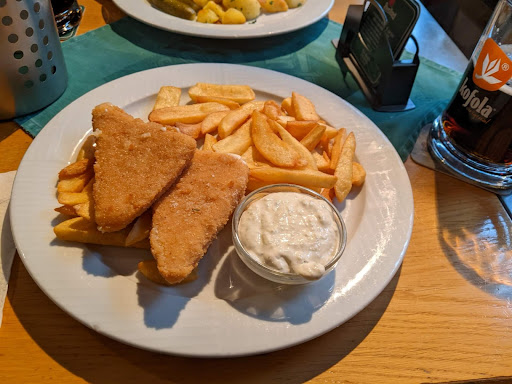 Smažený sýr is such a common meal in the Czech Republic that McDonald's has smažený sýr sandwiches. No joke–they literally have a sandwich that is just a bun with a fried cheese patty, lettuce, and tartar sauce, and it's awesome. Although the real thing from a Czech restaurant is better.
If you're going to try smažený sýr while you're in the Czech Republic (which I highly recommend you do), you should try eidam smažený sýr, meaning it's made with eidam cheese. Also, make sure you get plenty of tartar sauce. I don't know what it is about the tartar sauce here in eastern Europe, but it is so much better than anything in the States.
And this delectable (if somewhat unhealthy meal) usually comes with a side of fries or another form of cooked potatoes.
8. Schnitzel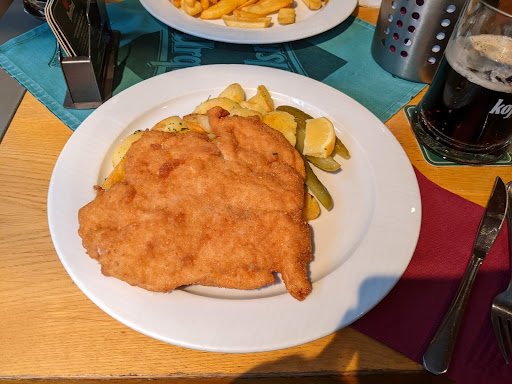 Okay, while not inherently a Czech cuisine, schnitzel is still a pretty good dish to get when it's offered at a Czech restaurant. For those of you who haven't had schnitzel before or don't know what it is, it is a thin slice of meat that is tenderized, breaded, and fried. It comes in different types of meat (pork, chicken, beef, turkey, veal), but we generally find it made from chicken. This one is also great with tartar sauce and potatoes.
This definitely isn't an all-encompassing list of the wonderful food we've had in Prague, but these are some must-haves if you're ever visiting this beautiful city.