Body positivity: What does it really mean?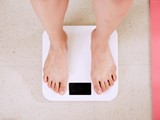 How many times have we heard the phrases "the number on the scale doesn't reflect who you are" and "body positivity"? These are words of affirmation, used to let us know that there is more to a human than the size of our body. I couldn't agree more, that our minds and our spirits can offer more to society than our bodies ever will.
Although, as I have been recovering from delivering my third baby, I've been thinking a lot about how important it is to care for our bodies. Women's bodies, for example, need to be healthy and strong enough to work and care for themselves. They also need to provide a healthy environment for growing babies in their bodies (if you so choose), need to have proper nutrition to feed their babies, and need to be strong and healthy enough to care for their children from birth to adulthood. Men's bodies, while they don't have to physically bear children, also need to be physically healthy and strong enough to provide for themselves and their families, and to help care for children.
A misguided look at body positivity
A lot of people tend to misconstrue "body positivity" to mean that we should be happy with our bodies, regardless of size, BMI, and physical disabilities that may come from an unhealthy body. Body positivity should not mean that we should eat what we want, because we love our bodies regardless. It also shouldn't mean that we should neglect exercise, because we are happy and content with having "curves."
Learning to love our bodies
I believe that to love our bodies, to embrace and encourage true body positivity, we need to learn about our bodies, and care for them so that they can keep our minds and spirits alive for as long as time will allow. We should be learning about caloric intake and learn how the body gains muscle and fat. We should also learn to lose fat at a healthy rate, while maintaining a healthy mentality towards food and our bodies. To love our bodies, we should be making a conscious effort to keep it physically strong through regular exercise (walking around the mall counts!)
How the scale can help
So, while the number on the scale truly does not reflect who you are in mind or spirit, it can act as a tool to help you embrace true body positivity. If you are aware that you are overweight, glancing at the scale now and then can help you track your progress to a healthier you. The scale is not the problem, it's our mentality towards the scale that is often the problem. The scale can often give us a reality check that we aren't ready to face, which often gives it a bad reputation. If we step on the scale with acknowledgement that we've either had a good week of healthy habits or a bad one, out mentality shifts from being scared of the scale, to accepting responsibility and accountability for our health.
Body positivity can be an amazing tool to create a positive mentality towards our bodies, but truly caring for our bodies, and gaining self-discipline in order to care for our bodies, will allow us to be better fit to care for children, be examples of health to those around us, and to feel more self-love and empowerment than ever.
Check out this video for Jillian Michaels' professional insights on the subject:
What do you do to feel more self-love and empower yourself to do better? How do you feel about body positivity?