Healthy Meal Prep Burrito Bowls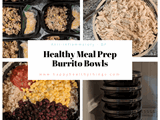 You can't go wrong with some good burrito bowls. They are so versatile with the different ways that you can make them. Use a different meat every time, switch up the veggies, and try them with different toppings.
Check out how I like to make our meal-prepped chicken burrito bowls.
Recipe yields 8-10 meals (depending on your preferred serving size). 
Ingredients
3 chicken breasts (frozen or thawed)
2 cups brown rice (uncooked)
1 can black beans (drained and rinsed)
1 can kerneled corn (drained)
¾-1 cup salsa
1 tbsp cumin
1 tsp chili powder
1 tsp garlic powder
1 tsp onion powder
Salt and pepper to taste
Toppings (green onions, shredded cheese, light sour cream, salsa, guac, tortilla chips)
Instructions
Start by cooking your brown rice. In a medium pot, bring 3 cups of water to boil. Then stir in rice, cover, and reduce to low heat. Cook for 40-50 minutes or until water has been absorbed.
While your rice is cooking, start the chicken. Place frozen or thawed chicken breasts into a large pot of water. Bring to a boil and then turn down to medium-high heat. Cook for 40-50 minutes if frozen, or 20-30 if thawed.
When the chicken is done (there should be no pink), remove from water and shred it. Dump the water out of the large pot.
Pour rice, shredded chicken, beans, corn, salsa, and seasonings into the large pot and mix well.
Portion out into food storage containers and eat for lunches or dinners throughout the week.
Add your favorite toppings and enjoy!