How to minimize the spread and stress of the coronavirus (COVID-19)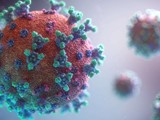 For many of us, this coronavirus pandemic is the craziest thing that has ever happened in our lifetime. And that's scary.
The coronavirus is continuing to spread, causing schools and businesses to close or work remotely and causing stores to run out of things as soon as they are stocked.
It's okay to be stressed or afraid right now, but know that there are precautions we can all take to help minimize the spread of the disease and keep ourselves, our families, and community members healthy.
What we know about COVID-19
As much as some people think the media is overdoing it with constant influx of information each day, it's a relief to me. We need to be informed about what is happening and how we can help mitigate the impact of the virus.
Fortunately, we have people in organizations like the CDC and WHO that are doing constant research to keep us updated on how we can remain healthy.
Facts about COVID-19:
On March 11, 2020, the COVID-19 outbreak was declared a global pandemic by the World Health Organization (WHO)
The immediate risk of being exposed to the virus is still low for Americans (as of March 17, 2020), but that risk will increase as the outbreak expands
For most people, the risk of becoming severely ill from COVID-19 is low
Older adults and people who have serious chronic medical conditions are more at-risk of becoming severely ill from the virus
Someone who has been through quarantine or released from isolation does not pose a risk of infecting others
The CDC, WHO, and other global and national leaders are taking actions to fight against the spread of this disease
To stay up to date on the latest developments on COVID-19, visit cdc.gov/coronavirus/.
What are the symptoms and when to seek medical advice
Some of the signs of the coronavirus disease are similar to the common flu, which has made this a particular challenge since we are right in the midst of flu season.
The CDC recommends to seek to watch for the following symptoms:
Fever
Cough
Shortness of breath
You should seek medical advice if:
You have developed symptoms

AND


You have been in close contact with someone who has been confirmed to have the disease or you have recently traveled from an area where there is community spread of the disease
Most hospitals are recommending that you call your medical provider before walking in for a test. This is so the hospital can be ready to administer the test and limit the spread of the disease as much as possible.
What can we do to help
The most important thing that we can do to help during this time is to stay informed. Stay up to date on local developments of the disease, places to avoid, and how to help your community.
You can minimize the spread of the disease by:
Washing your hands with soap often for at least 20 seconds
Need some songs to sing while washing your hands? Check these out.
Avoid touching your face
Stay home when you are sick (most employers should understand at this point)
Cover coughs and sneezes with a tissue (not your hand), then throw the tissue away and washing your hands/use hand sanitizer
Clean surfaces in your home that are frequently touched: door knobs, light switches, tabletops, counters, sink handles, etc.
While maintaining good hygiene practices is important, there are other things we can do to help our fellow community members too. Pay attention to your neighbors and people at the grocery store.
People who are more susceptible to becoming severely ill from the virus are scared and not all able to get the things that they need. Step up and help when you can.
Some ways to help out in your community:
Volunteer to pick up groceries for elderly neighbors
Support local businesses that are struggling by purchasing gift cards online or ordering take out
Social distance and avoid going out (let your true introvert shine)
Donate to local food banks
Don't hoard essential items. Take only what you need and leave some for other, the stores will restock
Reach out to neighbors and loved ones and make sure they are okay
Offer to Facetime or have phone conversations with residents at local senior centers–with them being the most-at risk, many facilities are advising residents to stay isolated in their rooms
Have a Netflix party with your friends in your own homes
Share your toilet paper! (unused of course)
We are all going through this together, and if we stay positive and keep each other in our thoughts with the actions that we take, we can get through this too.