It's Never Too Late (or Too Early) to Start Going After Your Dreams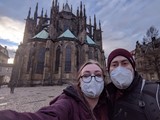 Okay, so this title might be a bit of cliché, but it's so important for every single person to know and understand. Whether you are just starting out on your own in the world (or even still a kid living at home); whether you have a family, job, and adult responsibilities; whether you are 80 years old and wondering how life passed by so quickly…It's never too late to start going after your dreams.
I'll take a lot of time here talking about my dreams and how I'm starting to change my own narrative, but I hope that someone out there gains inspiration from this and takes charge of their own life and realizes that it's time to make your own dreams and goals a reality.
I'm only 28 years old, so it feels a little silly to be talking about how I'm accomplishing my dreams when I'm still so young, and I don't want this to feel braggy. I really just want it to be an eye opener for all of you.
I'm going to start by talking about my work life–not just in my current job (which I love) but throughout college and up to this point too.
I've never really enjoyed working, and maybe it's not the job itself, but the regular 9-5 of it all that I didn't love, which I'm sure many people can relate too. It's kind of a necessary adult thing to get by in life, to make the means to support myself and my family and to be able to do the things that I enjoy in life. There were some jobs I've had where it was all I could do to not count down the hours, minutes, until I could go home for the night just to start up again the next morning. I realized early on that was something I did not want to do for the rest of my life, and it probably only clicked in the past year or two that it was something I did not have to do for the rest of my life.
I got lucky. I found a job that I love a few years ago after working in the "real world" (aka post-college) for two years. It was a total eye opener that I didn't have to be miserable at the workplace. I could work with people I genuinely enjoyed being around while doing a job that used skills that I really enjoyed developing and utilizing. And for a career, that's a pretty good situation to be in. But it's not enough to be happy with your job if you're not happy outside of that.
And that's not to say that I was totally unhappy with my home life. I have an amazing husband, we had our own apartment, two sweet cats, and were living the "American dream" (minus the white picket fence and kids). Now bear with me as I sound totally ungrateful…that wasn't enough.
And guess what–It's OK to feel that way. You can have a relatively good life and still not be happy with your circumstances. And you know who has the power to change those circumstances? You!
So working in a job that I love and just getting by wasn't enough for me. After a few years, the 9-5, no matter how much I love my job, starts to drag. The routine of it all and not feeling like there was enough time in the day to really enjoy life was becoming hard, for me and my husband.
And all it took was a global pandemic for us to realize (or maybe for me to realize because Josh knew all along) that we could do more.
Early last year (2021) we started talking about the possibility of moving abroad. I always dreamed of what it would be like when I was a teenager and let the dream die a little as I became an adult with adult responsibilities and stopped seeing it as something I could realistically achieve. Josh served a two-year mission for our church in Slovakia when he was 19 and has wanted to move back that way ever since.
So we started talking about moving to Slovakia–just talk. How cool would it be to go look at castles every weekend? How much we enjoyed the food (we visited a few years back). How much weight we'd lose because we'd have to walk everywhere. How much we enjoyed the public transportation.
Then we started talking about more logistical things–how much was a furnished apartment to rent long-term? Would we need a visa? How long could we realistically stay? What other things would we need to know to live there?
And this talk, this dream started developing. Now, early in the year (still talking about 2021), there were still tons of travel restrictions between the U.S. and European countries. So we let the dream fizzle a little bit.
But a few months later those travel restrictions were lifted (with a few basic requirements) to where this could actually be a possibility for us. So we started researching like crazy and came to the conclusion that Prague would be the best place for us to live. And by mid-August we had all but decided that we were going to make it happen (and three weeks later we bought our one-way tickets).
I won't go into all of the logistics of getting ready to move abroad within 4 months of purchasing our tickets (maybe in another blog down the road), but I will say it that as stressful as everything may have been, everything lined up kind of perfectly and just felt meant to be through the entire process.
And now, we are here. We are living in Prague, half a world away from everything we know, and loving every second of it. I'm still working a 40-hour work week, but with the time difference between here and the States, I'm working more of a swing shift. So I can explore during the day and on weekends (seeing plenty of castles) and still keep that job that I enjoy so much.
Now that we're doing this, it's opening my eyes to all of the dreams that I have for myself that I can make a reality. If I can move to a foreign country away from almost everything I know and love, I can make my other dreams happen too. And that's the beauty of finally taking charge of your own life and doing what you want. Once you make that first leap, you realize that the possibilities are endless.