Low Carb Broccoli Cheddar Soup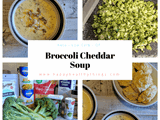 I couldn't find a low-carb broccoli cheddar soup that I loved, so I made my own. Enjoy!
Macros per serving: 25 g fat, 8.4 g protein, 4.6 g net carbs
Total servings: 8
I paired these Keto Cheddar Bay Biscuits with them (and they are so easy to make).
Ingredients
1 medium yellow onion, diced
1/4 cup butter
3 tsp guar gum (or other thickener - amount may be different if you use something else)
1 good-sized crown of broccoli, diced
1 cup heavy cream
2-14.5 oz cans of chicken or veggie broth
2 cups sharp cheddar cheese
1 tsp garlic powder
Salt and pepper to taste
Instructions
Sautée your diced onions and butter in your pot over medium heat for 5 minutes. 
Whisk in the guar gum (or other thickener) at this point, then pour in the heavy cream and whisk in well. Let simmer for 2-3 minutes. This should get pretty thick. 
Next, stir in your broth and bring to a boil. 
Pour in the cheese and whisk in until completely melted. 
Add garlic powder, salt, and pepper. 
Stir in broccoli and let simmer on medium-low heat for 20-30 minutes (until the broccoli is the tenderness that you like). Stir occasionally. 
Enjoy!