Low Carb / Keto Emergency Food Storage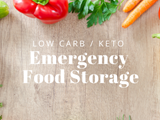 Update: While this was written at the height of the COVID pandemic and things are, for the most part, back to normal, it's still a good idea to have food storage in place. Natural disasters, wars, and other unforeseen events are taking place every day. 
We're experiencing some scary things in the world that leave us with a lot of unknowns. Most recently, we have the COVID-19 outbreak (Coronavirus 2019) and we're not sure what kind of disruptions it may cause to our everyday life.
Will we need to avoid going out in public for a few weeks? Should we work from home if we are able to? How long will the pandemic last?
We all have questions, and unfortunately, the CDC, WHO, and other health authorities don't have all the answers (yet) because this is a new strain of the disease.
But there are things that we can do to give ourselves a little more peace of mind, and that is to be prepared for anything. So let's talk about food storage.
Beyond just this recent string of events, it's important to always have some kind of emergency food storage in place. You never know what could happen, whether a natural disaster could take place, a snowstorm takes the power out, you're sick and can't leave home for a week, your favorite grocery store goes out of business, or any other event that may render you without the ability to shop for groceries.
Whatever the case may be, food storage is always a good idea.
Emergency food storage for low carb & Keto diets
Managing your health in the state of an emergency is one of the last things on our mind and often becomes an excuse (with good reason) for us just to eat whatever is convenient.
But the emergency won't last and we should feel good when we come out on the other side of it. So I want to help you out with some easy low-carb and Keto food storage ideas.
I'll sort these out into the following categories:
Drinks
Snacks
Canned goods (meats, fruits, veggies, soups, and more)
Condiments
Materials/tools
Quick tips
Scroll through this comprehensive list and start getting your low-carb food storage in place.
Drinks
The most important drink to have on hand is water. But I know that some of you (myself included) struggle to drink plain water at times. This list will give you some ideas of what to keep on hand in your beverage storage.
Keep in mind that not all of these are strict keto. Just be sure to know your body and what works well for you.
Water (1 gallon of water per person per day is the general recommendation), you can keep gallons or water bottles on hand
Protein shakes (Quest and Premier Protein are both great options)
Bai
Zero sugar Powerade or Gatorade (get those electrolytes!)
Sparkling water (La Croix and Bubly are popular options)
Diet soda
Coffee
Tea
Flavor packets (think Crystal Lights, Wyler's Light, Mio, etc.)
Snacks
Even in an emergency situation, it's good to have snacks. They provide a sense of normalcy to the situation or give a quick grab-and-go item if you need to take off to help neighbors or family members in this time of need.
Pork rinds
Cheese crisps (Whisps are my favorite)
Jerky or meat sticks
Nuts (peanuts, almonds, macadamia nuts, pistachios, etc.)
Nut butter
Quest bars
Dark chocolate
Freeze-dried strawberries, blackberries, blueberries, and raspberries
Dried seaweed or nori
Sugar-free candies
Canned goods
This is definitely where the bulk of your nutrition will come from no matter what your diet looks like. Canned foods are the backbone of any emergency food storage pantry. These ones just happen to be low-carb and keto-friendly.
Meats
Tuna/albacore
Chicken
Crab
Sardines
Spam
Corned beef
Chili con carne (without beans), Hormel and Nalley both have beanless chili and can be found at Walmart
Vienna sausage
Veggies
Green beans
Pickles (technically a fruit?)
Pickled asparagus
Mushrooms
Spinach
Garlic
Peppers (bell peppers, pepperoncini, jalapeno, chiles)
Tomatoes
Artichoke hearts
Carrots
Turnips
Onions
Fruits (in moderation and package in juice with no sugar added)
Pineapple
Mandarin oranges
Pears
Peaches
Blueberries
Grapefruit
Pumpkin
Olives
Other
Broth (bone broth, chicken, beef, veggie)
Veggie beef soup (without potatoes)
Cauliflower soups
French onion soup
Veggies soups
Condiments/flavor add-ons
Having the main foods that you love is all well and good, but it's nice if you can add a little flavor when you need to. The main thing you'll want to keep in mind with emergency storage condiments is things that won't need to be refrigerated once you open them. If the power is out as a result of your emergency, one-time use of a bottle of mayo is going to be a real waste.
So your best option for food storage is to get single use packets to go with meals and snacks. (Amazon will be your best friend here.)
Single use packets of mayo
Single use packets of mustard
Single use packets of sugar-free ketchup
Single use packets of ranch
Single use packets of hot sauce
Single use packets of peanut butter
Single use packets of parmesan
Bullion
Spices
Materials
And finally, these are the items you may need if you are out of power or without the ability to wash your dishes as the result of an emergency.
Paper plates
Plastic utensils
Napkins
Wet wipes
Hand sanitizer
Can opener
Paper/plastic cups
Cooler
Propane powered burner stove
Propane
What next
Now's the time to check what you currently have in your pantry and make a list of any other necessities you don't have.
Take your list, get shopping, and stock your pantry.
Quick tips for food storage planning
Here are a couple of quick tips that can help you as you dive into preparing your pantry.
Don't buy it all at once. If you are short on funds, this can get expensive fast. So set aside $10 each week when you do your grocery shopping to go toward your food storage pantry. It will start to add up and, before you know it, you'll have an entire pantry ready to go.
Keep expiration dates visible. If you need to, write the expiration dates in permanent ink on top of your jars. It's a good idea to go through your food storage once a year to get rid of any expired food.
If you do have something that is expiring soon, take it out of storage and plan it into your weekly meals so it doesn't go to waste. Then replenish that storage the next time you go shopping.
Keep food in dry, cool (and preferably dark) areas to help it last as long as possible.
Are we missing anything? Let us know! What are you go-to food storage items?