Low Carb Shrimp Zucchini Alfredo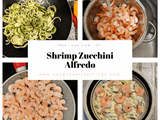 If you're craving some bomb fettuccine Alfredo, this dish will give you all of the flavor with a fraction of the carbs. 
Macros per serving: 8.75 net carbs, 36.5 g fat, 20.25 g protein
Servings per recipe: 4
Ingredients
Zoodles:
4 spiraled zucchinis
1 tbsp olive oil
Salt, pepper, garlic powder, onion powder 
Shrimp:
1 lb shrimp, peeled, de-veined, tail off (raw or precooked)
1 tsp minced garlic (2 cloves)
2 tbsp olive oil
Sauce:
1/4 cup (4 tbsp) butter
1 cup heavy cream
3/4 cup grated parmesan
1/2 tsp gaur gum or another thickener (optional, the sauce is just as good whether you thicken it or not)
1 tsp garlic powder
Salt and pepper to taste
Instructions
Start by sauteing your spiraled zucchinis over medium-high heat in 1 tbsp of olive oil. Sprinkle salt, pepper, garlic powder, and onion powder generously over the zoodles. Saute for 5-8 minutes or until they reach your desired tenderness. Remove from pan and set aside in a colander (this will help the juices drain). 
In the same skillet over medium heat, add 2 tbsp of olive oil and minced garlic. Toss the shrimp in the skillet until heated through (3-5 minutes if pre-cooked, 5-8 minutes if raw). Remove from heat. Set aside in a separate dish. 
In the same skillet, add your butter over medium-low heat. Once melted, whisk in heavy cream and parmesan. Add in your thickener, if desired, and seasonings. Whisk over medium-low heat for 5 minutes. 
Combine zucchini and shrimp with the sauce and serve!