Make Your Own Keto Snack Mix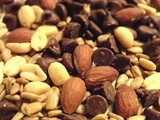 Snack mixes can become a staple in your Keto or low carb diet (or any diet that relies on healthy fats and proteins). Think of these snack mixes like trail mix that you can grab and go whenever you need them.
There are several options out there that you can purchase (one that I like from Costco…) or you can try making your own. It will probably be more cost-effective, depending on what you choose to add, and you'll know that you are getting exactly what you want.
Let's get started.
Step 1: Take a look at this list of great Keto/low carb snack mix ingredients and pick 4-6 that you want to add to your mix.
Peanuts
Almonds
Sunflower seeds
Dark chocolate (in moderation)
Cheese crisps
Macadamia nuts
Pumpkin seeds
Small pieces of jerky
Step 2: Purchase your ingredients.
Go to your favorite grocery store and pick up all of the items you need to make your grab-and-go snack mix. Remember to grab some plastic sandwich bags or other small containers to store your snacks in small portions.
Step 3: Mix it all up and portion them out.
In a large bowl or gallon-size bag, mix all of your ingredients together. Then portion them out into separate containers or bags for ease of access.
Step 4: Grab whenever you need a quick snack!
These snacks are now ready for you whenever you need it! I usually prep snacks like this for a week at a time, but with these long-lasting items you could prepare them for 2 weeks at a time.
What kinds of snacks do you like to add into your snack mixes? Let us know in the comments!