Why is it that every "meal plan" we come across is super fancy or calls for ingredients that the average person doesn't have in their pantry? Or is it just me? Am I the odd one out who doesn't keep turmeric, chickpea flour, and tofu on hand all the time?
I don't meal plan often. Sure, I'll write up a list of meals for the week and then maybe make one or two of them before I get sidetracked or too busy to cook. So I wanted to create something that is easy to stick to because it's quick to make and you'll actually want to eat it.
This 7-day meal plan for two isn't a strict "healthy" diet and might not meet your specific dietary needs, but I hope that it can help you in understanding that meal plans don't have to be overcomplicated with an hour-long process or rare ingredients that you can only find at Whole Foods.
Oh, and did I mention this is a meal plan for those who want to try their hand at intermittent fasting? So, only two meals a day (with snack options at the end for those who need something in between their meals). I've done intermittent fasting in the past and have seen slow, but steady results from it in my weight loss journey, without changing my diet much. But, I'm sure as I eat healthy(er) foods, eat out less, and start getting more active, I'll see even better results than I have so far.
Without further ado, I present...a meal plan.
Yes, one of the options for a meal is to eat out. We live busy lives, and eating out once a week is a great option on a busier (or lazier) day. Sometimes we just don't want to cook, and that is OK.
Need a simple, free meal plan printable for planning out your meals each week? Click this one and save or print it at your leisure. 😁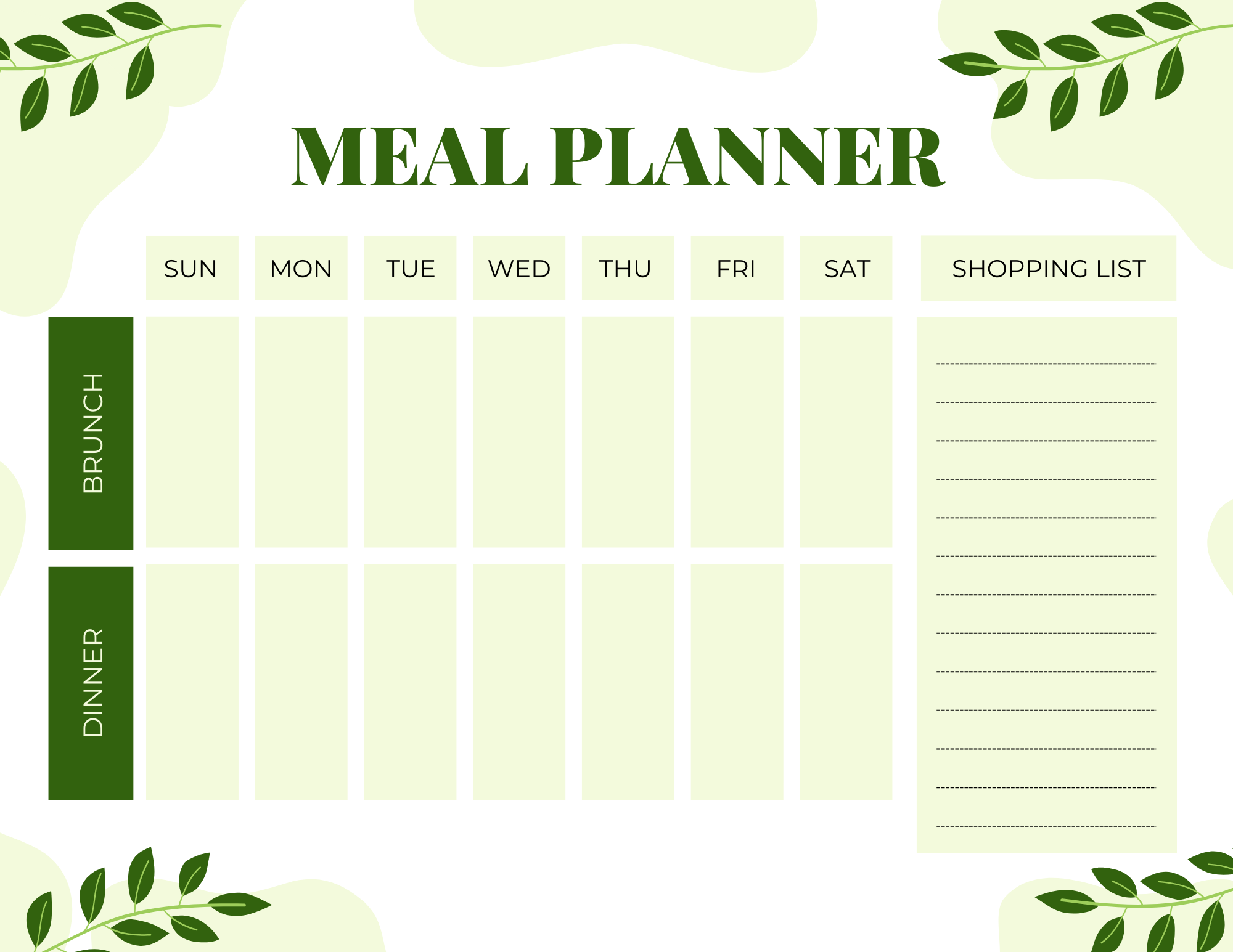 Brunch Recipes
For you first meal of the day, make sure you get a well-balanced breakfast/lunch (or brunch) with some quick and easy options.
Avocado Wheat Toast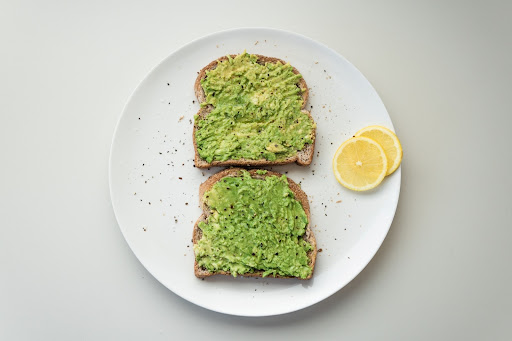 Avocado toast is a simple classic. And if you don't like avocados, substitute this meal for the Egg Scramble or a Breakfast Sandwich that suits your fancy. The best part about this one is that it's so simple to adapt to most diets. Not doing gluten? Use sweet potatoes or gluten-free bread.
Ingredients:
4 slices of wheat bread
1-2 avocados (depending on size)
Salt & pepper to taste
Additional toppings to add protein:
Smoked salmon (my personal fave)
Scrambled, over-easy, or hard-boiled egg
Other toppings to add some flavor:
Tomatoes
Red onion
Chives
Lemon juice
Add a serving of your favorite fruit to have on the side for a well-balanced and fully nutritious meal!
Instructions:
Pop your bread into the toaster. Mash up or slice your avocado and spread it over the toast when it's done to your liking. Sprinkle salt and pepper over the avocado and enjoy!
Note: If you're using smoked salmon as a topping, don't add salt to the avocado, it will be plenty salty with the salmon.
Deli Sandwich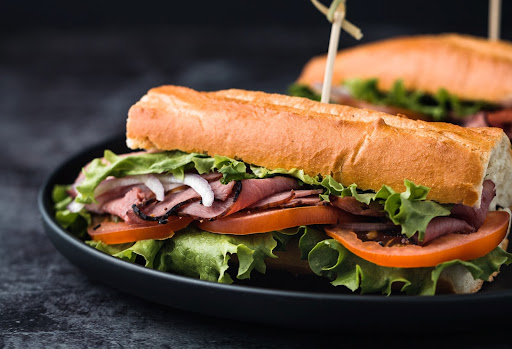 Sandwiches are such an easy meal if you're not on a no-carb diet (been there, done that–and it really does work if you can stick to it. Maybe I'll come up with an easy Keto/Low Carb intermittent meal plan later…) You can mix up sandwiches to make them different every day of the week. Grill them, switch up the meats, sauces, and other fillings, and just make it your own!
Ingredients:
Your choice of bread (we've used $1 French bread from Walmart and it's perfect–maybe not the healthiest, but so good)
4-6 large slices of deli meat (we've done turkey and roast beef fresh from the deli)
Slices of your favorite cheese (we've been using American)
Leafy green lettuce
Tomato (beefsteak tomatoes are perfect for slicing on sandwiches)
Red onion
Mayo or other sauce preference
Instructions:
I feel like everyone has their own special way of making the perfect sandwich. We take our French bread and slice off portions large enough for a sandwich (a 4-inch section is about a quarter of the bread that we get).
Then I'll scoop out the insides of the bread a little so our sandwiches aren't falling apart on us. The rest is pretty much your standard sammy smackdown–spread mayo on both pieces of bread, layer on the meat, then cheese, then lettuce, tomatoes, and onions (and pickles if you're like my husband.)
Egg Scramble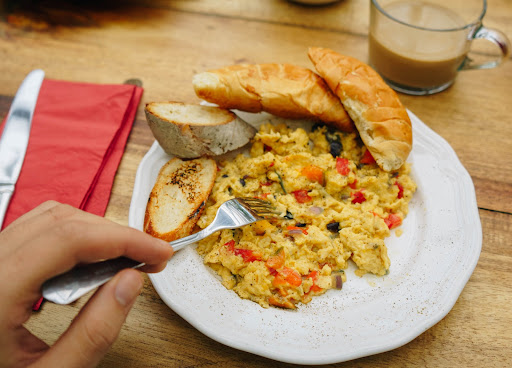 This is definitely one of my favorite go-to breakfasts because they're so quick and easy (if your kitchen is clean and you can find a good nonstick pan). The beauty of an egg scramble is that you can put virtually anything in it and it will probably taste good. Pair this with some wheat toast, bacon, or a side of fruit and you're good to go.
Ingredients:
4-6 large eggs
Splash of heavy cream
Salt
Pepper
Onion powder
Garlic powder
¼ cup diced yellow onions
½ cup diced bell peppers (any color will do)
2 tbsp olive oil
Instructions:
Heat up the olive oil in a medium-large nonstick pan over medium-high heat. Toss your onions and peppers (or any other veggies you are using) for 2-3 minutes or until cooked to your liking.
Beat the eggs in a small mixing bowl and add a splash of heavy whipping cream plus a dash of each of the seasonings. Sometimes I'll even add in a small handful of shredded cheese.
Pour the egg mixture over your cooked veggies and cook on medium-low heat until the eggs are soft, but not dry. Usually 3-5 minutes tops. Plate and enjoy!
Breakfast Sandwich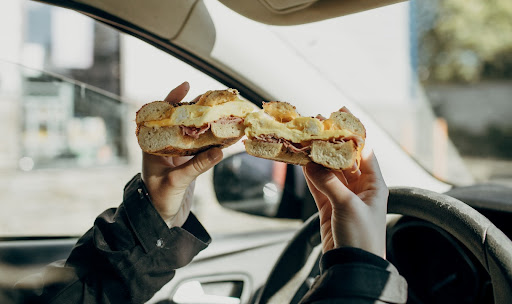 A delicious spin on traditional sandwiches if you love breakfast food. Can you really go wrong with a bagel or croissant sandwich? If you don't have those, wheat toast is always a great substitute!
Ingredients:
Your choice of bread (bagel, croissant, or actual bread)
2 eggs
A couple slices of your preferred meat (bacon, ham, or sausage patties are great for this)
A couple slices of your favorite cheese (pepperjack is yummy for a little kick)
Butter
Salt and pepper
Additional toppings if desired: avocado, lettuce, tomato, peppers, red onions
Instructions:
Toast your bagels or bread, or slice your croissants in half. Butter 'em up.
Cook up your eggs to your liking: scrambled, fried, or over easy. Honestly, even sliced up hard-boiled eggs are great on sandwiches. Place your cheese slice over your egg so it can start to get melty.
Heat up or cook your meat and slap it over your egg and cheese.
Add all desired toppings, a little salt and pepper, and smash it all together.
Enjoy!
Cereal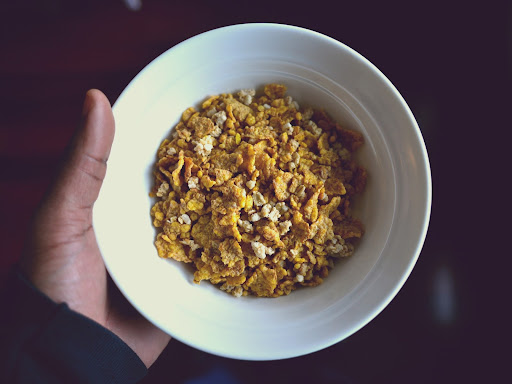 Y'all, I know you don't need a recipe for cereal. Heck, you probably don't need a recipe for most of the items on this list. That's the point! It's supposed to be easy. There is nothing wrong with having a quick bowl (or two) of cereal for breakfast or lunch now and then.
Ingredients:
Your favorite cereal (our "healthy" choices are Honey Bunches of Oats and Special K with Strawberries, but you can also find us with good ole Marshmallow Maties–these are better than Lucky Charms!)
Your preferred milk choice (we use unsweetened almond milk)
Instructions:
Pour your…I'm sorry, I just can't even on this one. If you can't make cereal, just click this link for a video on how to make cereal. 
Dinner Recipes
Spaghetti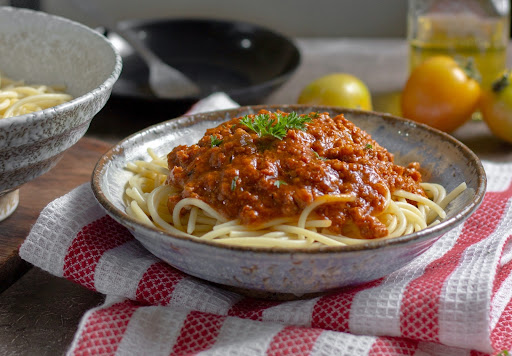 What meal is easier than spaghetti? Heat some noodles in a pot and throw a jar of your favorite sauce (marinara, alfredo, pesto) over it. Cook up your favorite protein to mix in with it (ground beef, chicken, shrimp) for something extra sustainable.
Spaghetti is one meal that you can really make your own. Here's my easy version.
Ingredients:
1lb ground beef
1 jar Prego Traditional Italian Sauce
1 box spaghetti noodles
Optional: grated parmesan cheese to top
Instructions:
Bring a pot of water to boil and cook the noodles per box instructions. While the noodles are boiling, brown the ground beef over in a medium-to-large saucepan on medium heat. When that's cooked, pour the sauce over the ground beef and let it heat up over low-medium heat.
Drain your noodles when they're done (at this point I sometimes like to add butter or olive oil to the noodles so they don't stick together) and place a serving on a plate. Pour sauce over the noodles and top with parmesan cheese!
To add a little more nutrition, prep some green veggies or a salad to go along side this. Steam frozen broccoli in the microwave for something super easy, and just add some garlic powder and olive oil (or butter) for extra flavor.
Quick tip for leftovers: Don't mix your sauce and noodles together. Heat them up separately when you want to have your leftovers and it will be almost as fresh as the day you made it. Heat your noodles with some olive oil or butter in the microwave for 30-60 seconds and heat your meat sauce in a saucepan or pot on the stove for a couple minutes.
Slow Cooker Pot Roast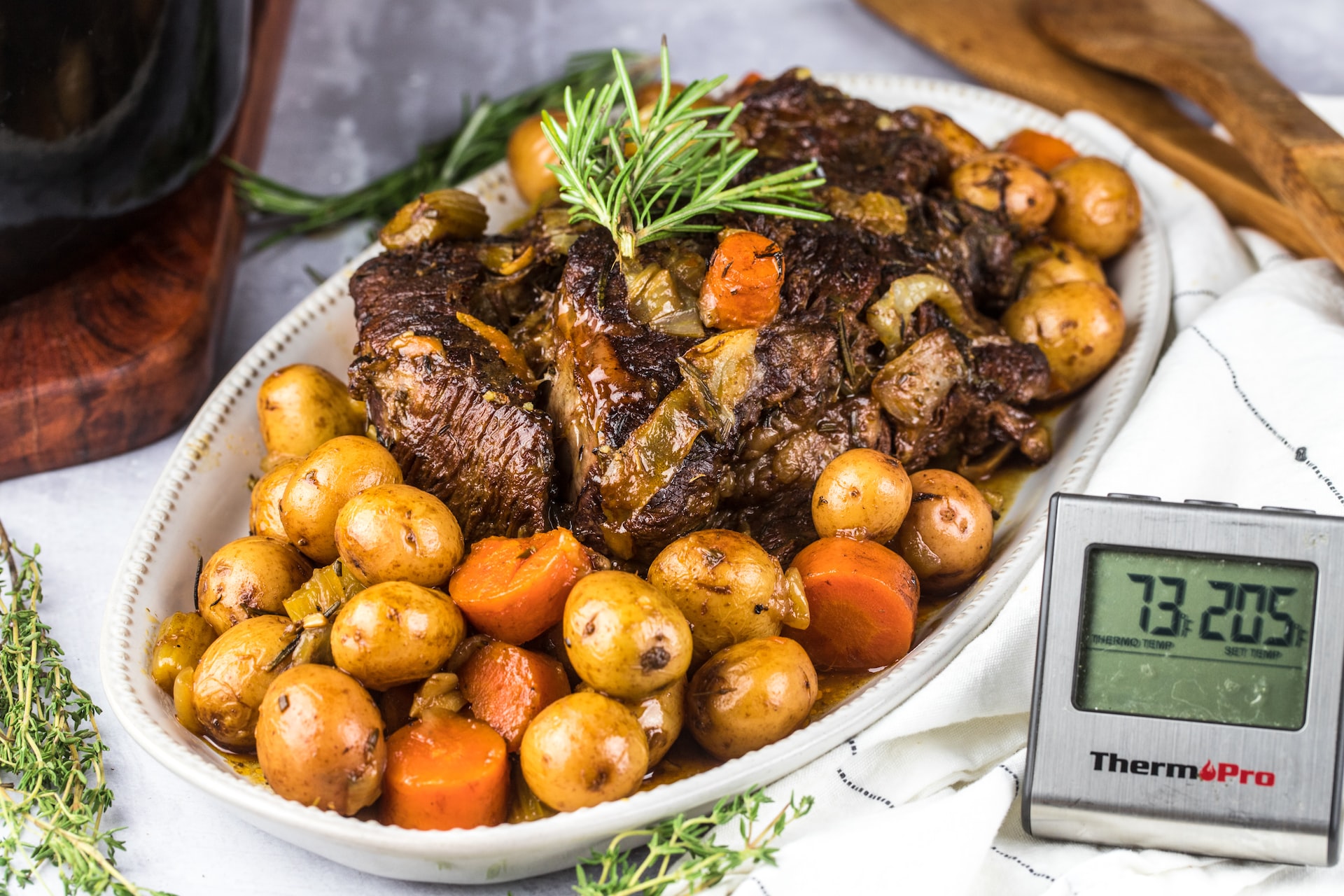 I love slow cooker meals! What's better than throwing everything together in a slow cooker at the start of the day and coming home to a ready-to-eat meal later? Not much.
This slow cooker pot roast is so incredibly easy to make and will give you some leftovers for later in the week too.
Ingredients:
4-6 pound chuck roast
1 package of Lipton onion soup mix
Whatever potatoes you have on hand (I like baby reds or small golden potatoes)
Carrots (baby carrots and large carrots both work)
1 medium-sized onion
2 cups of beef broth
Salt and pepper
Instructions:
For a little extra oomph on your roast, salt and pepper it generously and sear it for 2-3 minutes on each side before throwing it into the slow cooker. This step isn't totally necessary, it just helps with the tenderness and flavor.
Chop up your potatoes into 1-2 inch pieces as needed (smaller potatoes can stay whole). Chop up large carrots into 1-inch pieces (if using baby carrots, you don't need to chop). Quarter your onion and spread out the slices.
Toss your veggies into the bottom of your crock pot and salt and pepper them. Lay the roast over the veggies. Sprinkle your Lipton soup mix over everything. Pour your beef broth in.
Cover and cook on low for 4-6 hours. Everyone's slow cooker is different, so just cook until the meat is starting to fall apart. You may need to remove the veggies a little before the meat so they don't start to get mushy.
Slow Cooker Chicken Fajitas
Find my low-carb and easy slow cooker chicken fajita recipe here!
Need more than two meals? Try these snacks too!
Sometimes, two meals, even when intermittent fasting, just isn't enough food in the day. So if you need a little extra sustenance, try some of these filling snacks.
Protein shake (pair this with your breakfast)
String cheese
Greek yogurt
Apple slices and peanut butter
Hummus and veggies
Ranch and veggies
Meat and cheese slices (deli meat like pepperoni and salami or summer sausages are great for this)
Conclusion
This article is a little bit of a parody piece, but I hope you've found some value in it. Meal planning and eating healthier doesn't have to be difficult. I need to tell myself that more often too.
Take the meals that you enjoy and find easy to make and work them into your weekly meal plan. When you have a plan and keep the groceries on hands for these meals, it's a lot easier to stick to a healthy eating regimen. And remember, it's okay to indulge yourself with a yummy treat or eating out now and then.