Thinking about moving to Split, Croatia for a spell? Then this guide is meant for you! My husband and I lived in Split for three months and have some helpful tips and tricks to make your transition into life in Dalmatia a little smoother.
Whether you are moving to Croatia permanently or just want to stay for a couple of months, I think you'll find some helpful information throughout this guide.
Since this is a pretty extensive guide, feel free to click directly to the sections that you'd like to learn more information about.
Must-know information for living in Split, Croatia
Before you plan a move to Split, there are a few things that you should know.
How long can you stay?
First, it's super important to know how long you're allowed to stay in the country (this goes for any country outside of your home country). In Croatia, individuals with a U.S. passport can currently stay for up to 90 days out of any 180-day period.
Important note: Croatia is becoming a part of the EU's Schengen area, and as of January 1, 2023, Schengen area travel restrictions will apply (currently individuals with U.S. passports can stay in the Schengen area for 90 days out of any 180-day period). Basically, this means you'll be able to stay in Croatia and any Schengen area country for a total of 90 days in any 180-day period, but once that 90 days is up, you'll need to leave the Schengen area until you've been out of the area for 90 days.
There are visas you can apply for to extend your stay. I won't go into too much detail on these, but you can learn more information about different visas in Croatia here.
You need to have an OIB to access certain local services.
An OIB (osobni identifikacijski broj), or personal identification number, is required to access specific local services like phone and internet plans or bank accounts. I highly recommend setting this up within your first few days of arrival to the country if you plan to stay and use these services. It's fairly quick and simple. See the process below.
What currency is used in Croatia?
Croatia uses the Croatian Kuna. Kunas are pretty different from the U.S. dollar and, while the exchange rate varies, it was generally about 6 to 8 Kunas per $1 USD. Another trick that helped me was remembering that 100 kuna is about $15 USD.
I'd also recommend pulling out some cash (maybe a couple hundred kuna) when you arrive just so you have it for markets, restaurants, and gelaterias (ice cream shops) that don't take cards.
Know when the "busy season" is.
Croatia is a hot spot for vacations in the summer, so things tend to get busy and more expensive during this season. This generally lasts from mid-June through September. We stayed from April through June, and that was really a good time to be there because we were able to enjoy warm weather before the busy season really took off.
But if you enjoy the hustle and bustle of large crowds and hanging out with other like-minded tourists, then you may enjoy it!
Be ready for a change of pace.
The culture in Croatia is much more…relaxed than most Americans are used to. So much so in fact that they even have a word for this laid-back attitude: fjaka. Fjaka (pronounced fee-yah-kuh) means "the sweetness of doing nothing."
It's common for people to spend their days lounging on the beach, walking slowly in a relaxed manner wherever they go, and spending hours at a cafe bar or restaurant before asking for the bill and leaving. (Another helpful note for Americans–you do need to ask for the bill at restaurants.)
Just be prepared for people to take their time and prepare yourself to do the same. It's a place to slow down from the fast-paced life you may be coming from.
Things to do before you move to Croatia
The fact that you're reading this article means you're already making the best first step: research. Having an idea of the basics that you need to know before living in a new country is really important! So here are some of the basics that I recommend before diving all in:
Find a place to live
Before taking the plunge and moving to Split, or anywhere in Croatia for that matter, find a place to live. Sure, you could always get a short-term Airbnb and try to find something when you get there, but the rental market has been crazy and many locals and tourists have found difficulty finding a long-term rental. So I recommend locking that down before you arrive.
Here are some helpful resources for finding an apartment in Split, Croatia:
Airbnb: There are a lot of good options on Airbnb for expats looking to stay long-term in Split. These do tend to be more on the expensive side of things, but you can pay in USD, see all of the amenities that a place has to offer, and have the peace of mind of using a trusted app and company for your housing needs. https://www.airbnb.com/s/Split--Croatia/homes 
Njuškalo: This is a Croatian housing website. You can find short to long-term rentals from locals, which tend to run a lot cheaper than Airbnb rentals. The site is in Croatian, so you'll want to work a little bit of Google Translate magic while hunting for the perfect place to live. https://www.njuskalo.hr/ 
Facebook: This is how we found our rental, and it was about 600 euros/month (plus utilities which were around 40 euros per month). Just join some Split expat groups on Facebook and put your pitch out there stating that you're looking for a rental and when you're hoping to be there. You're likely to get some quick responses from people who want to fill their rentals. Here are the groups I'd recommend joining:

If you do opt to rent local rather than through a site like Airbnb, just be prepared to pay a security deposit and for utilities as well as your own internet (we'll talk a little bit about this later on too).
Quick tips for choosing where to live in Split:
If you're not going to have a car, choose someplace that has all the amenities you want for your trip within a couple minutes' walking distance (i.e. grocery stores, restaurants, beaches). Public transportation isn't super reliable and takes a long time so be prepared to walk or Uber a lot–we'll get more into this later in the article.
If you're going to be in Split in the summer, choose a place near the water. It is so hot and humid in the summer that you will want to be in or near the water just about every day.
Also, air conditioning is a MUST for living in Split in the summer.
Don't be intimidated by living in a tall building. If you're living even a little ways outside of old town, you may be on the 12th floor of a 14-story building. And if you are, you may just have some of the best views in Split. Ask to see views from the windows as you're searching for your apartment. Here's what the view from our 12th-story apartment looked like.
Learn the language
You don't need to speak Croatian fluently to be able to get by in Split. Many people speak English, or at least enough to get by. It can be helpful to have a translator for some of the more official things (setting up an OIB, visa application requirements, etc.).
But if you're just there for a few months, I'd recommend at least picking up a few basic phrases to get by.
Dobar dan


Pronounced: doh-bar dahn
Means: Good day
Use: Common greeting in stores, businesses, and restaurants.

Bok


Pronounced: bohk
Means: Hi or bye
Use: Informal way to say hello or goodbye to someone. We used this a lot at our local grocery store.

Doviđenja


Pronounced: doh-vee-jen-yuh (the "đ" makes a kind of j sound)
Means: Goodbye
Use: Formal goodbye. Most people say "bok" or "ciao".

Hvala


Pronounced: h-vah-lah (there are a lot of words with adjacent consonants, and you pronounce every consonant in the word)
Means: Thank you
Use: To thank someone, often used after taking a taxi, eating at a restaurant, leaving a grocery store, etc. You may also hear "hvala vama" which is a more formal way to say thank you.

Molim


Pronounced: moh-leem
Means: Please
Use: When trying to get someone's attention or asking for something at a restaurant. You might say "Molim vas…" and then ask your question.

Oprostite


Pronounced: Oh-proh-stee-teh (the r is flipped or slightly rolled)
Means: "excuse me" or "I'm sorry"
Use: When trying to get past someone in a busy area or after bumping into someone on accident. You can also use this to get someone's attention (similar to "excuse me" in the US). You can also say "Pardon" and get the same meaning across.

Govorite li engleski


Pronounced: goh-vor-ee-teh lee en-gles-kee
Means: Do you speak English?
Use: When you don't know the language and need to ask someone for help, directions, to order food, etc.

Imate li…


Pronounced: ee-mah-teh lee
Means: Do you have…
Use: This is helpful at a store to ask the staff if they have something that you need. Just say "Imate li" and then the thing that you want.
And if you forget any of this, make Google Translate your best friend.
What to do when you arrive in Split, Croatia
If you're planning to live in Split for less than 90 days, then this section is a must. Some of this will be helpful for longer stays too, but most people don't realize they have to do these things when traveling for shorter spans of time as well.
Register your address
All tourists have to be registered with the Croatian police. If you're staying at a hotel, Airbnb, or another designated vacation rental, this is usually taken care of for you by your host or accommodation service.
If you end up renting from a local like we did, then you may need to take care of this on your own.
Expat in Croatia has a great guide on this topic and is also an excellent resource for all things Croatia if you're planning to move there.
Get an OIB
An OIB is the Croatian equivalent to your SSN. If you don't have one, in some instances you'll be able to use your passport number. We were able to do that on our rental agreement.
But there are certain services that you will need an OIB for. If you wish to set up a mobile phone plan and internet in your apartment or if you want to set up a local bank account, you'll need an OIB. If your rental already has wifi and you just need a phone plan, but don't want to get an OIB, there are prepaid phone services you can look into and pick up at just about any grocery store.
If you do need to get your OIB, follow this guide. It will help provide you with the right forms and the best ways to turn those into the officials.
We got our OIBs in person, and it was a relatively quick and painless process. We were in and out within 15-20 minutes. And we didn't speak hardly any Croatian and still managed to get by on our own.
Set up phone and internet
If you need to set up phone and internet while you're in Croatia, there are a few things to consider.
First, as we've mentioned, you'll need to get an OIB if you plan to purchase any phone or home internet plans from local phone providers.
We used A1 for our cell phone plans and internet, but there are other phone providers you can look into. Ask your landlord what they recommend and what has been used in the apartment in the past.
If you can swing it, it will definitely be the easiest to find a rental that already offers wifi and then pick up a prepaid phone plan. Then you don't have to go through the contract process with a phone provider (start-up and cancellation) and you won't have to worry about an OIB, at least for these services.
How to get around Split
Navigating around Split is pretty simple, particularly if you're staying in the city center. You can walk most places–down to the beach, to the restaurants, to Marjan National Park, through Old Town, and more. If you're trying to get a little further, the public transportation would not be my first recommendation, at least for in-town travel.
From the airport
When you arrive at the airport in Split, there are several bus and taxi services you can take into the city center. If you are in communication with your Airbnb host or landlord, I'd ask them for recommendations. Our landlord helped arrange a car to pick us up and we paid 25 euros for the trip directly to our apartment.
The trip into Split from the airport is about 30-40 minutes.
Here's a good article that outlines some of the services available to you: Getting to and from Split Airport - By bus, taxi or transfer - Visit Croatia
Public transportation
The only mode of public transportation in Split is buses, and they are a little difficult to figure out. There are bus stops all over, but the schedules that are posted only show the time each bus starts its route, not where the route starts or when it will be at your stop. And the timing isn't perfect either.
When we first arrived we ended up waiting in the city center for a bus for about 2 hours. We lived a little outside of the center and it would have taken us less time to walk home than to wait for this bus.
Uber and taxis
If you're venturing further than the city center, but still staying in Split, we'd recommend Uber–if prices aren't outrageous. We paid $3-4 (20-30 kunas), including tip, per trip until it started getting into the busy season. Then the prices can go up to $10 per trip depending on the time of day.
There are lots of taxi drivers waiting near the city center, at the bus station, and at the airport. So you can always ask someone to drive you from there. Most Uber drivers also have their own taxi service, so if you like your driver, ask for their contact info–some of them even have business cards ready to hand out.
Boats and ferries
Visiting the islands is always a popular activity in Split. There are plenty of boat tours and ferries that go out to the neighboring islands. Just find a tour that sounds appealing and book it, or find the ferry schedule and take a trip to Hvar, Brač, Vis, or Korčula.
Going out of town
If you're leaving Split to visit other areas in Croatia (Dubrovnik, Plitvice Lakes, Zadar, Zagreb, or other cities), you can book a trip with FlixBus to most places. Just show up at the main bus station 30 minutes before your departure and find your bus. All buses should have their route posted in the front window, so look out for that. And if you're unsure which bus is yours, you can always ask the drivers.
Navigating the restaurant scene
Going to restaurants in Split (or anywhere in Croatia) is going to be a lot different than sitting down at a restaurant in the United States–for several reasons.
First, many of the restaurants have open outdoor seating, and they don't generally have a staff member seating customers. You just find a place you'd like to sit and someone will come hand you a menu at their own leisure.
Another thing that may come as a shock is how long people spend at restaurants. It's totally normal for someone to order a coffee and sit at a restaurant for hours reading the paper, chatting with friends, or just relaxing. And the restaurant staff expect that. We're used to spending 30-45 minutes at a restaurant, but the servers just give you your food and then leave you until you're ready to go. On that note, be sure to ask for the check when you're ready to leave. They won't bring it to you unprompted.
Beyond that, the food is fantastic. Be sure to try a seafood platter or two and the black risotto.
If you're unsure how to go about eating a whole grilled fish, check out this article.
Best things to do and see in Split, Croatia
There are a lot of cool things you can do and see in and around Split. We'll focus on the close proximity, but don't be afraid to venture out to neighboring cities and up and down the coastline to make the best of your time in Croatia.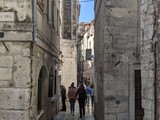 Old Town
When you're first getting acquainted with Split, just take some time to explore the streets and alleys of Old Town. This is also a fun way to escape the scorching sun in during the warmer seasons. The walls and buildings in Old Town are a maze of old stone architecture, and you'll likely stumble upon some quaint restaurants and shops during your exploration.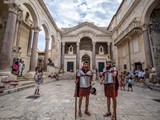 Diocletian's Palace
When you visit the city center, be sure to visit Diocletian's Palace. It's hard to miss since it makes up about half of Old Town. This ancient palace was built for the Roman Emporer Diocletian, who held his position from 284 until 305.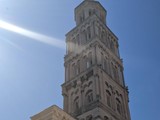 Saint Domnius Bell Tower
This tower rises up over Split and can be seen far and wide. It is a part of the Cathedral of Saint Domnius. You can purchase tickets at the entrance if you want to climb to the top of the tower for some amazing views of Split. Plan for about 30 minutes to trek up to the top.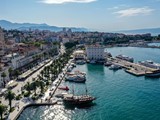 Riva Harbor
Riva Harbor is the heart of Split. Just outside of Old Town, you can walk along the waterfront amidst the palm trees. Several restaurants and booths often align the waterfront. So you can take a seat and enjoy a view of the sea. We even saw an international rowing competition one day.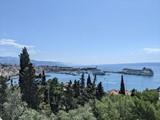 Marjan National Park
Marjan National Park is great for hiking. It has some awesome views of Split and the surrounding sea, and you'll definitely get your workout hiking up the hill. Right before you head into the park, there is a restaurant that you can break at.
At the top of the hill there are some awesome viewpoints and old ruins that are perfect for pictures and taking a rest to admire the area.
Beaches
You can't go to Split without spending a few days (or more) at the beach, especially in the summer. We lived near Žnjan beach and loved it. It has a great walking and biking path. There were frequently people getting in a good workout, taking a leisurely stroll, or walking their dogs. And in the summer there are cabanas you can rent and plenty of restaurants and cafe bars to lounge at.
Some other popular beaches are Bačvice and Kasjuni.
Most beaches are pebble beaches, so be sure to have some good shoes if your feet are sensitive. And if you plan to venture out into the water, I'd recommend water shoes. They are sea urchins in along the shore that are not fun to step on.
Enjoy your trip!
Split really is such a beautiful city, and there's a lot to do and see. Make sure you make the most out of your trip. Eat all the seafood and gelato you can, and spend a lot of time at the beach.
Bok!